From bean to brew
How and why I started Beantrust.
I owe a lot to the traditional service industry, in particular the small, family-owned coffee service and distribution company I used to work for. While there I worked on some amazing projects, including being the first company to distribute Peet's beans, as well as the first company to bring cold-brew coffee to Boston. But, as happens with many companies that experience great growth and success, things changed. I found myself stuck in a market that was profit-driven and saturated, meaning less attention was being paid to the people involved in favor of costs and margins. Ultimately, that lack of interpersonal connection meant people weren't listening to each other, and I knew it was time to leave.
But even after I left, I found that most of the coffee market I loved was similarly focused on the numbers, making clever and shrewd business decisions that had very little to do with what people wanted or needed. There was almost no sense of true connection, and I slowly realized that this wasn't just a problem with one company, or one industry, or even the business world as a whole. Our entire society had lost touch with each other.
Starting in 2015, I made it my mission to reconnect as many people as I could, pushing for projects and business ventures that focused on real, honest interactions. And I found that this almost always translated into real monetary value for the people and businesses involved. Society may have lost its way, but we knew we were lost and desperately longed for a return to the hospitality and connection of old. Along this journey I received help from individuals and groups who share my concern and wish to change how we do business, particularly the Venture Cafe, Greentown Labs, and Cambridge Innovation Center.
These places epitomize the synthesis of old-world hospitality with new technology, infrastructure, and business. They make the same shrewd and clever decisions that most companies make, but are always concentrating on how those decisions can help actual people, often those within a nearby community. They care about profit, but also about wellness, sustainability, and empathy. The number of companies and organizations who think this way is still small, but it's growing, and I'm heartened by the welcome I've received from those who are already doing such great work.
Along my journey, I've had the pleasure to meet countless individuals who are doing great work, including building ecosystems in Latin America and helping Syrian refugees in Turkey find jobs. The projects my friends and acquaintances have undertaken are innumerable and impressive.They recognize that trust and humanity are paramount in every community, and that without consideration for the disadvantaged, the struggling, and the neglected, no business endeavor can be truly great.
I think about that every day, and it's made my life and the lives of others so much richer.
Past and Current Clients Includes
beantrust will assist you in crafting a coffee, tea, and chocolate experience that revitalizes your office and event spaces:
• Your choice of gear (brewers, steepers, grinders, kettles, cups and mugs)
• High-quality, ethically sourced coffee, tea, & chocolate
• Cafe design, equipment selection & placement
• Service, training, & on-going refreshment support.
Old world hospitality is the essence of beantrust and together we can create the coolest unique experience to connect people in your office.
beantrust will assemble a curated collection of coffees, teas, & drinking chocolates to be tasted and explored by you and your colleagues, family, or friends:
• Slow-brewed, smooth, refreshing cold brewed coffee
• Freshly roasted, ground, and brewed hot coffees from around the world
• Liquid Truffle, the most remarkable 70% cacao drinking chocolate from Nicaragua
• Chilled teas with herbs and spices
• Carbonated tea "spritzers" with fresh herbs and fruit
• Perfectly steeped hot tea prepared in the original style*
*availability dependent upon tea harvest.
beantrust will provide you with freshly roasted, artisanal whole bean coffee from sustainable farms and local roasters. Offerings include:
• beantrust Inaugural Blend (clean, slightly acidic finish, perfect for espresso or any manual brewing method)
• Papua New Guinea Nebilyer Valley (milk chocolate, orange, plum, best for pour-over or french press)
• Guatemala Nuevo Oriente, SHB (mild citrus, clove, smooth mouth feel, best for pour-over or Chemex)
• Ethiopia Sidamo Guji (silky, bright acidity, best for Chemex, pour-over, or Aeropress)
• Guatemala DECAF (brown butter, caramel, best for espresso, french press, or pour-over)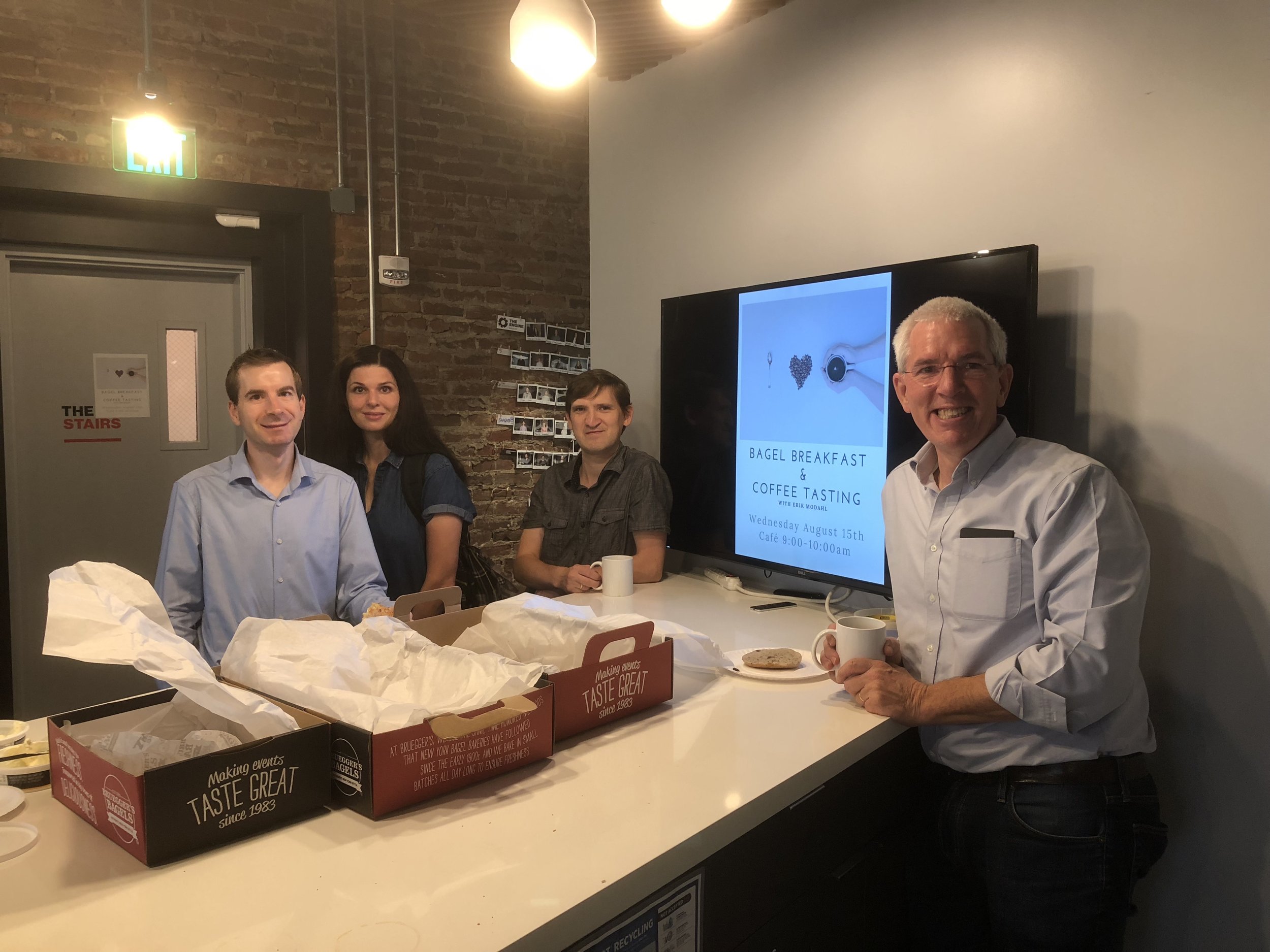 Curated teas and chocolates
beantrust will provide you with direct-traded and hand-crafted teas and tea blends, and the finest drinking chocolate from Nicaragua.
Both products dependent on harvest and season.
Contact Erik at beantrust.